Help Centre - Frequently Asked Questions
Importing Gedcoms
To load your file onto the site, click on the Family Tree button at the top of your homepage, then select Import Gedcom from the drop-down menu. This will take you to the import gedcom page. The site will add and update relations in your tree from information exactly as it is stored in your Gedcom file. If you upload your Gedcom file and the data is not displayed as expected in your tree then normally this is a result of a corrupted Gedcom file. We suggest that you open up the file with your family tree software programme and check the data. Please also make sure that the family tree is correctly exported as a standard Gedcom.
It is not necessary to remove your tree to allow an upload, but you can only upload one Gedcom per registration. If you import a file for one branch of your family and then import a second file, the first one will be automatically deleted and it is not possible to retrieve the data.
To import a Gedcom file that you have created, click on the 'Import Gedcom' button once. This will open up a new window and you will then be able to browse through your files to find your Gedcom file. Once you have located it click on 'send files'.
Please note that it may take a few minutes for the upload to complete depending on the size of your Gedcom file. You will see a confirmation message letting you know that the upload was successful. Your Gedcom file will then be queued for processing and we will email you once your tree is on the site.
We will also email you if the file does not upload to the site. It may help just to try exporting your file from your family tree software again. It must be exported as a gedcom 5.5 with the character set ANSI. Once you have done that you can try to re-load it.
Unfortunately uploading a new Gedcom will mean that any photos you have manually uploaded to the Genes site may be wiped. Your hot matches may also be affected.
Helpful tips:
For Genes Reunited to successfully import the Gedcom file, one of the entries in your Gedcom file must match the forename, surname and year of birth of your registered details in your tree. All other entries in the Gedcom file to be imported must also have a forename, surname and year of birth.
Please note that at present we do not accept files in utf-8 or unicode format. If your software allows you to choose a character set for your export please select 'ANSI'. For example, using PAF 5 select the option 'Other Gedcom 5.5' and char-set 'ANSI'. The vast majority of software packages will create the file in the correct format by default.
Your family tree in Genes Reunited cannot show both biological and adopted parents for the same child. If you load from a Gedcom that contains this information please bear in mind that the results will not include both sets of parent information. It may be better to split your tree into two and load under different registrations.
If you have any trouble uploading your Gedcom then please contact the support team.
Genes Extras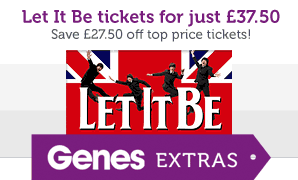 As a way of saying thank you to our subscribers, we have launched Genes Extras. You'll find exclusive competitions and discounts on family history magazines, days out and much more.