Genes Reunited Blog
Welcome to the new Genes Reunited blog!
We regularly add blogs covering a variety of topics. You can add your own comments at the bottom.
The Genes Reunited Team will be writing blogs and keeping you up to date with changes happening on the site.
In the future we hope to have guest bloggers that will be able to give you tips and advice as to how to trace your family history.
The blogs will have various privacy settings, so that you can choose who you share your blog with.
New Military Records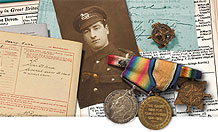 Was your ancestor a war hero?
View thousands of brand new military records, including Chelsea Pensioner records, Military Nurses, Prisoners of war and much more.
With Lizzie Yarnold's gold medal in the skeleton and Jenny Jones' bronze medal in slope style snowboarding, Sochi 2014 has seen the nation's best performance at the Winter Olympics in 78 years.
Britain is somewhat of an underdog when it comes to winter sports, yet at the very first Winter Olympics, British athletes performed remarkably well. Held in 1924 at the foot of Mount Blanc in Chamonix, France, these initial games were the most the successful country has ever participated in.

Originally called "Semaine Internationale des Sports d'Hiver" ("International Winter Sports Week"), they were held in association with the 1924 Summer Olympics and events were held between January 25 and February 5.

That year, Team GB took home one gold, one silver and two bronze medals placing sixth on the medal table, an impressive feat when considering that they were up against seasoned winter athletes from countries like Norway and the highest ranking we have attained in the past 20 years is 18th place.

One Bronze medal was snapped up by the men's national Ice hockey team and the other by women's singles Figure skater Ethel Muckelt. Birth records show Ethel was born in 1885, Chorlton, Lancashire. The 1891 census shows Ethel grew up at number 11 Edge Lane, Stretford, Lancashire with her parents John and Mary, four brothers, four sister and two house servants. It must have been a bit too crowded for Ethel, as by 1901, aged only 16 she was boarding at a house on Wellington Road in Stockport while attending school. She continued to skate after her 1924 medal winning second place in the World championships of that year and finished 7th in the 1928 Olympics. It appears she did not marry and death records show she passed away in Bucklow, Cheshire in 1953.

Britain had its very own 'cool runnings' moment as underdogs, Alexander Richardson, Ralph Broome, Thomas Arnold and Rodney Soher took the silver in the four/five bobsleigh with an overall time of 5.48.83. Alexander Whitmore Colquhoun Richardson, the oldest member of the team at 37 years old, was born at Gerrards Cross, Buckinghamshire in 1897. He served in the First World War in the Bedfordshire Regiment reaching the rank of Major and was awarded the Distinguished Service Order and after the games Richardson was Commanding Officer of the 4th Battalion Royal Tank Corps. In 1938 he was recalled and became Commanding Officer 84th Anti-Aircraft Brigade and from 1940 to 1941 he was Commanding Officer 26th Armoured Brigade before becoming Director-General of the Armoured Fighting Vehicles at the War Office. He became Brigadier General Staff 2nd Army in 1942 and in 1943 Chief of Staff 18th Army Group, Tunisia and then Chief of Staff 15th Army Group, Italy before retiring in 1945. Records show he was married at Hanover square in 1914 and died in the New Forest in 1964.

The national Champions of the 1924 games were Britain's Curling team; William Jackson, Thomas Murray, Robin Welsh and Laurence Jackson. These four Scots were all members of the Royal Caledonian Curling Club. It was somewhat of a family affair as team skip, William Jackson, had included his son, Laurence Jackson in the team line up.

A peculiarity of the competition was the rumour that Great Britain and Ireland's Major D. G. Astley played for Sweden when they overcame France in the play-off. The IOC records that he received a silver medal along with the Swedes, and also a gold medal, as part of the GB team. If the official IOC records are correct, then Astley would be the only person in history to have received both gold and silver medals in the same Olympic event, and one of the few people to have won an Olympic medal for different nations.