Suggestions
Welcome to the Genes Reunited community boards!
The Genes Reunited community is made up of millions of people with similar interests. Discover your family history and make life long friends along the way.
You will find a close knit but welcoming group of keen genealogists all prepared to offer advice and help to new members.
And it's not all serious business. The boards are often a place to relax and be entertained by all kinds of subjects.
The Genes community will go out of their way to help you, so don't be shy about asking for help.
Quick Search
Single word search
New Scottish Census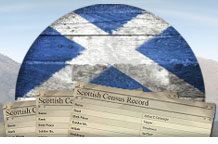 Do you have Scottish ancestors?
Perhaps you do and you just didn't know! Search our brand new Scottish census records today and discover if you have Scottish roots.
Icons
New posts
No new posts
Thread closed
Stickied, new posts
Stickied, no new posts
Hot Matches -- that are neither Hot nor Match
Profile
Posted by
Options
Post Date

Renes
Report
29 Mar 2012 15:08

I have a John Thomas Meek baptised 17 09 1871 at North Creake Norfolk in my tree

Today I received this from GR

""We have found a new match for John Meek, born 1871""

and the following list

Meek John 1871 Depwade Norfolk View
Meek John 1871 Westbury On Severn Gloucestershire View
Meek John Frederick 1871 Holborn London View
Meek John George 1871 Guisborough Yorkshire View
Meek John Miller 1871 Burton Upon Trent Staffordshire View
Meek John Robert 1871 Truro Cornwall View
Meek John Thomas 1871 Docking Norfolk

Ok 2 are in Norfolk but what a waste of resources

AND 2nd Email

for Robert Turner born and baptised Netherbury Dorset 04 05 1851

Irene

We have found clues to your ancestors in the 1881 census for England and Wales by matching people in your family tree with official records.

((Admittedly he is listed ---with the correct place and year of birth shown on 1881 census

---so very easy to find ---------BUT all the others ))
Turner Robert 1851 St Lukes Bethnal Green, Town View
Turner Robert 1851 Wareham Lambeth, Kennington First View
Turner Robert 1851 Clapham Lambeth, Brixton View
Turner Robert 1851 St Aulkmonds Parish Wandsworth, Battersea View
Turner Robert 1851 Ealing Mt Steyning, Shoreham View
Turner Robert 1851 Wicken Newmarket, Soham View
Turner Robert 1851 Hundon Sudbury, Melford View
Turner Robert 1851 Hassingham Blofield, South Walsham View
Turner Robert 1851 Netherbury Weymouth, Abbotsbury View
Turner Robert 1851 Birmingham, Lady Wood View
Turner Robert 1851 Harbury Lincoln, Lincoln Home View
Turner John 1851 Chesterfield Chesterfield, Chesterfield View
Turner Robert 1851 Liverpool Liverpool, Mount Pleasant View
Turner Robert 1851 Pemberton Wigan, Hindley View
Turner Robert 1851 Manchester Oldham, Oldham Below Town View
Turner Robert 1851 Bentham Haslingden, Edenfield View
Turner Robert 1851 Woodplumpton Preston, Trinity View
Turner Robert 1851 Scarbro Bramley, Wortley View
Turner Robert 1851 Leeds Leeds, North Leeds View
Turner Robert 1851 Thetford Hull, Humber
Turner Robert 1851 Buston Gateshead, Gateshead View
Turner Robert 1851 Barnstaple Swansea, Swansea


This seems a waste of resources when at this moment of time -- I cannot log in some days ---am plagued with error messages other days

Please GR you fix the site and I will do the tree

LadyScozz
Report
30 Mar 2012 01:35

At least your Matches are in the same country.

I've had Aberdeen matched with Auckland, Edinburgh with Sydney......... waiting for Tranent with Timbuktoo.!

JoyDean
Report
30 Mar 2012 08:21

:-S

I may input some names of direct ancestors again if the instabilities are resolved.

Researching:
Sadd - Suffolk, Newton - Buckinghamshire, McCusker - Galway and Fermanagh, Brooks - London, and many others

InspectorGreenPen
Report
30 Mar 2012 14:23

I read recently on here that GR had turned off Place of Birth matching until the performance issues were resolved, in which care only name and year of birth are currently being matched.

Renes
Report
30 Mar 2012 19:33



Yes. IGP and that is exactly what they have done .........................waste of their time and resources and my time opening emails

ridiculous




Kense
Report
1 Apr 2012 11:39

If you don't want the email about Hot Matches then you can switch it of in My Account > Email Preferences.

A lot of us would like to get Hot Matches but haven't had any for months.



Penpal
Report
5 Apr 2012 04:07

Sometimes we have only sketchy information about a person's birthplace. Knowing other options can be helpful until we get the next clue. I'd never blame GR for giving us too much information -- only giving us less in the new format.

But the new hot matches are actually useless. We could look up those names on the 'search trees' option anyway, and what's the point of contacting someone you know about a name on your two trees? We want to know whether a new hot match has sufficient in common to make it worth a message.

I think GR is too busy cutting wood to sharpen the axe, that is, they don't tell us how to use the new gizmos or say how many members have actually asked for them. I didn't even know what the arrows on the names were for, or that you could drag the screen to see the first and last sibling in the family. Would love a tutorial because half the time I think the site isn't working and I'm getting pretty fed up.

I used to say this was the best site going but I honestly wouldn't recommend it to beginners at the moment.

:-\

Researching:
Longbotham, Holden, Holdsworth, Brearley/Brierley, Crossley, Gledhill, Rawsthorn, Robertson, Wardrop(e), Murray, McDonald

LadyScozz
Report
5 Apr 2012 06:43

A tutorial is a good idea Pen, lots of us stumbling about in the dark.

A friend of mine was staying with me for a while, and started a GR tree. She would have been totally lost if I hadn't been here to help. She sent a couple of emails to the "Help" people, their responses were ridiculous. Not helpful at all.

I click on the in the new tree and nothing happens............ oh wait.... I WAS told.........it's my computer! Grrrrrrr :-P

I really don't like the new tree at all. I've used at least six different genealogy software packages, and the GR one is (my opinion) a disaster.

I'm rather get no hot matches than the pages and pages of useless ones I used to get., either a match with someone I'm already in contact with, or a name match who was born on the other side of the world. :-(

Sad_Mushroom
Report
6 Apr 2012 05:47

Hiya,
I have been a free member for years but only just subscribed...

I received an email telling me the GR had matches for ME!!!!
My name, my date of birth and place of birth!!!

Curious I had a look (via the link provided) and NOTHING was even close...
Not the same names,,,,,dates of birth or even the same COUNTRY!!!!!

I did try an upload a tree but it got pretty screwed up during the upload...
Tried to correct one person and after a 45minute wait of the "loading" going on I just closed the page....

Wil be deleting the tree and not clicking on any other "matches" from GR

Kellie

Researching:
There is no ' i ' in TEAM, but there is two in stupid.

grannyfranny
Report
6 Apr 2012 09:09

I had 5 hot matches this morning. All were correct, the place of birth was written differently ie town v county, 3 of them were previous contacts, the other 2 were not in my direct tree so I probably won't chase them up. But I did get them!

Researching:
Freeman of Berwick upon Tweed

LadyScozz
Report
11 Apr 2012 10:45

I last got Hotmatches in February - one.

It's still on my Home Page - 'You have a Hot Match with a Brand New Member". I know I sent a contact message to that person, but got no reply, my message hasn't even been opened.

So today I thought I'd have a look at discarded matches.

Click on Hot matches

Click on discarded matches

Error Message

I should have known

:-P

Berona
Report
12 Apr 2012 04:00

Give them a break. It's no use saying they should be concentrating on one aspect instead of another. Computer work is specialised and different training is required for different divisions. A programmer can only write programs - then the technical people need to introduce it into the system to see if it is compatible with other programs. I could go on but suffice to say that all of this work is made so much easier if they turn it off like businesses can do overnight or at weekends - but GR is being used by us 24/7 and they have to do it while it is being used.

As for the Hot Matches - they are matched with the name and birth only and it doesn't take up a person's time - the computer does it. The program for that has been running for years. Also, many people think they were born where they grew up and that isn't necessarily so. My own OH always thought he and his three younger siblings were born in West Derby, Liverpool. Three older ones born elsewhere were all sure of this until we bought his B.C. and found that the parents had spent a year in Everton before moving to West Derby, where the next sibling was born 16 months after OH. Nobody could remember living in Everton because they were too young at the time. At the age of 80, when the eldest sister heard about this, she vaguely remembered going to a 'different' school in her first year. This was the first time she had thought about it since she was 6! There a lots of situations like this.

LadyScozz
Report
14 Apr 2012 03:38

Berona, I know the tech staff at GR have lots to do, BUT.

I've been "giving them a break" since I joined in 2005. I gave them a break when they lost half my tree (they replaced it with the other half), I gave them a break when I couldn't sign in, I gave them a break when I got (and still get) constant error messages.

They've had enough "breaks" - it's time this site was sorted out!

Berona
Report
16 Apr 2012 00:02

That's what I was trying to explain Scoz. Introducing one new program, can have an effect on a number of other programs - so everything needs to be 'tested' first - and that's when things go wrong, if people are using the system. It would be better if they could shut it down each time they need to work on it, but that would cause complaints from the users - so the best they can do is wait until the least amount of users are online (after midnight UK time) and that's no doubt when YOU are using it. It takes hundreds of programs to run a system. One new one needs to be tested, and re-tested until they can be sure they can connect it to others - it's the testing time when things go wrong, telling them that they need to try again, or programmers need to add/delete something in the program - and test it again.

I've worked in a computer environment and I understand what they are doing. When I find that things are going wrong - I leave it for a few hours and come back later.


It would be difficult to 'hot match' place of birth. To 'match', the words must be the same - and how can you match the name of the town with 'England' or the county/shire, etc.?

LadyScozz
Report
16 Apr 2012 00:34

I know that Berona. But GR has been going long enough to have things sorted by now. I think when they started the system wasn't thought through properly, they probably weren't expecting so many people to be interested.

The place of birth could be better - different "boxes" with town, state/county & country. Lots of people give a full street address, so an extra box might be useful. That would help with the Hot Matches..... but who is going to go through every name on a tree to do it?

I do know something about what is involved. OH & I worked in Oz (and other countries for nine years) on computer systems. Not dinky ones, but mainframe. This was with international companies, they wouldn't have been happy if we were still working on the basics years after starting!

OH has a degree in computing. I don't have a degree, but have also worked with computers since the early 1970s.

If GR need to have downtime to get things sorted properly, that's fine with me. But if it's going to take some time, this must be added to membership, and they MUST give us warning...... on THIS SITE (a BIG notice on the Home Page), not Facebook.

It's also about time GR asked members what WE want/need.

Kense
Report
16 Apr 2012 07:37

"It's also about time GR asked members what WE want/need."
That is what this board is supposed to be for.

In addition they have had surveys from time to time. Unfortunately they tend to have them on Facebook or on General Chat rather than om all boards.

LadyScozz
Report
16 Apr 2012 12:37

I doubt GR read the boards.

I've never been asked.

Been a member since June 2005, but I've only been using the boards for a few months. Going by the names I see on the boards, it's only a few members who post, no idea how many read the boards.

They have everyone's email, the RIGHT thing to do would be to ask EVERYONE, especially long-term members, and those who have more than 2 names on a tree. (I've seen trees with one name).

Hands up - who has been asked?

Kense
Report
16 Apr 2012 15:29

Last year some members were invited toi go to London at the end of November to give ideas about the way forward for GR. Regretably I was unable to attend. :-(

I can't seem to find the thread about that. Someone must have deleted it.

InspectorGreenPen
Report
16 Apr 2012 18:37

Actually, GR do ask members from time to time what they would like to see developed on the site. I have completed at least two such questionnaires in the past five years.