Genealogy Chat
Welcome to the Genes Reunited community boards!
The Genes Reunited community is made up of millions of people with similar interests. Discover your family history and make life long friends along the way.
You will find a close knit but welcoming group of keen genealogists all prepared to offer advice and help to new members.
And it's not all serious business. The boards are often a place to relax and be entertained by all kinds of subjects.
The Genes community will go out of their way to help you, so don't be shy about asking for help.
Quick Search
Single word search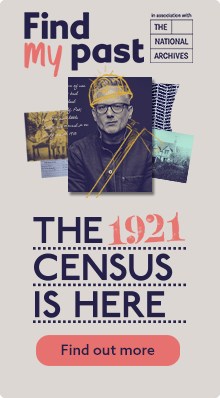 Icons
New posts
No new posts
Thread closed
Stickied, new posts
Stickied, no new posts
census information for England & Wales inc 1911
Profile
Posted by
Options
Post Date

Joy
Report
10 Feb 2009 15:55

for Joan, and Diane.

Joy
Report
20 Feb 2009 11:22

nudged for bmd

Joy
Report
27 Feb 2009 21:02

- for Robert

Joy
Report
2 Mar 2009 16:51

http://blog.1911census.co.uk/

we have now scanned all English counties and have started on Wales. We anticipate that the East and North Ridings of Yorkshire, and Durham will be available by the end of March.

Joy
Report
5 Mar 2009 10:36

- for Audrey.

Joy
Report
5 Mar 2009 22:10

- for Brian

Brian
Report
5 Mar 2009 22:56

RIGHT I LOOKED AT LINK WHICH TAKES ME TO THE SOCIETY OF GENEALOGISTS AND THEY REQUIRE A £45 FEE WILL THIS LET ME VIEW 1911 CENSUS AND OTHERS BEFORE . I BELIEVE YOU ARE SAYING THAT THE 1911 CENSUS WAS RELEASED IN 2006 IS THAT CORRECT, AND GR ARE NOT GETTING THE ACCESS
I SEEM TO BE GOING IN CIRCLES?

Brian
Report
5 Mar 2009 23:08

RIGHT I THINK I UNDERSTAND NOW (FIND MY PAST) HAS THE ONLY RIGHTS TO THE 1911 CENSUS, AND TO MOVE FORWARD I NEED TO JOIN UP WITH THEM.
I SOUGHT OF NEED TO KNOW SOON AS MY SUBSCRIPTION HERE ENDS SOON AND I DONT WANT TO PAY 2 SITES FOR OBVIOUS REASON.
my problem is my age if i was older i would have info for that era unfortunately ive started and my parent are to old to give me that info they just don't remember and i have a big gap in my tree, ive tried soton council site but i can't find how to get dob cert which could get me past this brickwall, any ideas
apart from obvious make some guesses and just buy birth certs that may be right?

Joy
Report
8 Mar 2009 09:46

Brian, the census was released early this year, only available on the site that was given to you; and is accessible, too, now at Kew.

There could be people who have access to parish registers for Southampton; you could ask on here, on rootschat site, or on family tree forum; or there could be an online parish clerk (called OPC) for the area in which you are interested.

Happy hunting.

Joy
Report
23 Mar 2009 09:51

for Stuart

Joy
Report
9 Apr 2009 18:17

The complete counties of Northumberland, Cumberland and Westmorland, which comprise 443,204 new records, are now live on 1911census.co.uk. In addition, the Gateshead data, which comprises 84,195 new records, has now been added to Durham. This means that the whole of England is now online and searchable.

The Welsh counties will be added soon.

For the latest news and updates visit the 1911census.co.uk blog.


Joy
Report
24 Apr 2009 15:55

http://blog.1911census.co.uk/

April 22nd, 2009
Want to find out what the statisticians of the time gleaned from the 1911 census data?
Take a look at the reports on the excellent Vision of Britain website from the University of Portsmouth



Joy
Report
7 May 2009 22:47

http://blog.1911census.co.uk/

Update: release of Welsh counties
May 7th, 2009
On April 8 we stated that we hoped to have some data from Wales available by the end of May. This release has been put back due to the complexity of transcribing the original Welsh-language records, and we now hope to upload all of the Welsh data by the end of June.



Joy
Report
7 May 2009 22:54

http://blog.1911census.co.uk/2009/01/more-images-available-within-the-month-at-no-extra-cost/#comments

If you have already bought the original page of the household original page, you will be able to view any associated images for free, simply by returning to the record you have paid for via the "My Records" area on the website. Any new images that you buy will have all the associated images available at the flat cost of 30 credits for the lot.

Not every search result will have all of the following images available but many households will.

Extra RG14 Household (or Institution) Schedule images:

The address panel from the back of the schedule, showing the address as written by your ancestors and the registration district and subdistrict
The front page of the volume in which your schedule was stored, giving more detailed information on parishes and districts
Extra RG78 Enumerator Summary Book images
The Front page of the volume in which the Enumerator's Summary sheet was stored
Enumerator's Summary original page - this not only shows the names of heads of households and how many people occupied the houses (showing you the neighbours), but also lists other buildings, whether houses or not.
Population statistics for the area
a description of the Enumerator's walk
(in some cases) a map of the Enumerator's walk

April 27th, 2009 at 2:24 am
At the moment we are trying to decide whether to release them with partial completeness (i.e not all schedules will have the data for the moment) or to wait until the data is 100% cleared up so almost all searches will result in a full set of images.
At the moment I would say that it's pretty much 50/50 between a partial release by the beginning of May or a full release in June. Will keep you posted.

April 30th, 2009 at 12:51 am
UPDATE: we have decided to do some additional fixing and Quality Assurance work on these before they go live to make sure everybody has as good an experience as possible - therefore we're targeting the end of May as a release time.



Elizabethofseasons
Report
14 May 2009 03:15

Nudge please

Important information about the census

Very useful for all new members at the beginning
of the thread.

Thank you.


Elizabethofseasons
Report
14 May 2009 03:15

Nudge please

Important information about the census

Very useful for all new members at the beginning
of the thread.

Thank you.


Joy
Report
14 May 2009 21:38

Thank you, Elizabeth.



Joy
Report
8 Jun 2009 22:33

http://www.1911census.co.uk/content/default.aspx?r=24&140

The Welsh records
You may encounter added difficulties when searching the 1911 census for Welsh records.

Two languages
Prior to the 1911 census, only the enumerators' books were retained, and these were completed in English.

On the 1911 census, householders were given the option of filling in the form in Welsh or English. Around eight and a half per cent of the population in Wales spoke Welsh as their first language, so a percentage of the forms were written in Welsh.
These factors can make it tricky to find individuals in the Welsh records, and then understand any Welsh language results that are returned.

Common surnames
The difficulty of searching Welsh records is compounded by the fact that a few common surnames (such as Jones, Williams, Davies, and Evans) account for a large percentage of the population, and you may need extra information to narrow your search.

Common occupations
In addition, a large proportion of the Welsh population worked within a small number of industries. For example, one in 10 people worked in coal mining and one in 20 were farmers. This can make it difficult to find your ancestors among the many results.

Our search tips will help you search for both English and Welsh returns without specific knowledge of the Welsh language, and we have also provided translation tables to help you understand results in Welsh.



Joy
Report
8 Jun 2009 22:49

Welsh census online now :-)


NB They've kept it quiet; not announced on the 1911 site nor the blog; and the National Archives newsletter received today stated:
Great news for family historians - the 1911 census records for Wales should be available later this week

Joy
Report
9 Jun 2009 13:43

http://blog.1911census.co.uk/

Welsh counties now released
June 9th, 2009
We are pleased to announce that all counties in Wales are now available on the site, a total of over 2.4 million individuals and over a million households.

As the 1911 census is the first where household schedules were preserved, you will find that some of the census returns are printed in, and completed in, Welsh rather than English - these amount to about 13% of the total schedules for Wales. To help those of you who are not native Welsh speakers but have Welsh ancestors, we have added a new section to the 1911 website which explains the Welsh returns and also provides translation tables to help you interpret your ancestors' documents.

Our profound thanks to Geoff Riggs and the members of the Association of Family History Societies in Wales who have developed and made this information available - we are very grateful for your time and effort, and are sure that users of the site will appreciate your contribution hugely.