May 2014 - Genes Reunited Blog
Welcome to the new Genes Reunited blog!
We regularly add blogs covering a variety of topics. You can add your own comments at the bottom.
The Genes Reunited Team will be writing blogs and keeping you up to date with changes happening on the site.
In the future we hope to have guest bloggers that will be able to give you tips and advice as to how to trace your family history.
The blogs will have various privacy settings, so that you can choose who you share your blog with.
Summary
2015

---

2014

---

2013

---

2012

---

2011

---

2010
New Scottish Census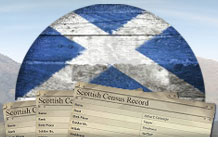 Do you have Scottish ancestors?
Perhaps you do and you just didn't know! Search our brand new Scottish census records today and discover if you have Scottish roots.
Our Gillies Plastic Surgery Archives contain 2,858 records, taken from operations performed between 1917 and 1925 by the legendry surgeon Dr Harold Gillies. Gillies is widely considered to be the father of Plastic surgery and became famous for the pioneering treatments he gave to thousands of young men who suffered horrific facial injuries fighting on the Western Front.