September 2014 - Genes Reunited Blog
Welcome to the new Genes Reunited blog!
We regularly add blogs covering a variety of topics. You can add your own comments at the bottom.
The Genes Reunited Team will be writing blogs and keeping you up to date with changes happening on the site.
In the future we hope to have guest bloggers that will be able to give you tips and advice as to how to trace your family history.
The blogs will have various privacy settings, so that you can choose who you share your blog with.
Summary
2015

---

2014

---

2013

---

2012

---

2011

---

2010
New Military Records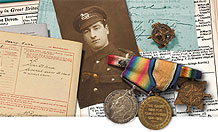 Was your ancestor a war hero?
View thousands of brand new military records, including Chelsea Pensioner records, Military Nurses, Prisoners of war and much more.
Every month, Genes Reunited chooses a family photo sent in by our customers to be examined by dress-historian, portrait specialist and photo detective Jayne Shrimpton. This month's family photo was a lovely image of a group of very smartly dressed Victorian young ladies on a hill walking trip in the Lake District.